direct: 707-725-2444

Contact Pacific Pastures


California Raised
"Our cattle have an ocean view!"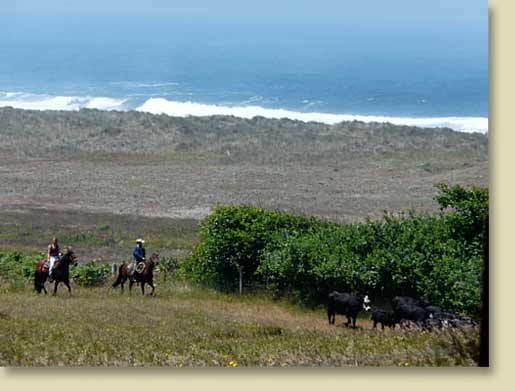 Customers are more interested than ever in knowing where their food comes from and that it has not traveled thousands and thousands of miles to reach their tables.
Our cattle are raised in California by independent ranchers and all of our beef is 100% traceable back to the ranch and the animal.
Our primary pastures are on or close to the Pacific Ocean. We also have cattle in the mountains that feed on winter grazing lands in the Sacramento Valley, the east bay of San Francisco and the Central Coast.
Our cattle are 80+% Angus with some other European breeds that thrive on grass. They graze on the same lush green pastures as certified organic cattle. They graze on grass their entire lives. During inclement weather they have shelter available with hay and alfalfa. This is usually necessary during winter storms.
Pacific Pastures cattle are free of antibiotics and growth hormones.
As a small, entrepreneurial company, our focus is on finding premium retailers who share our commitment to sustainable land use, animal welfare, efficient energy usage, and conservation of wildlife and the environment. Search for a store near you.
We're continually expanding by making Pacific Pastures 100% Grass Fed Natural Beef available to you in selected grocery stores, specialty markets and restaurants that share these values.
Contact us for questions or feedback.